Paananen & Ulvila. In strange premises.

2nd Floor Exhibition:
Paananen & Ulvila´s works are paintings made in collaboration with two artists. Sanna Maria Paananen and Tero Ulvila have worked together since 2014. They are both painters, but their ways of working are very different. Ulvila's way of painting is spontaneous, pictorial abstractionism, while Paananen's works are figurative, carefully sketched in advance and mainly in black and white. Their collaboration seems to form a third artist who is different from either of the authors alone, although the handprint of both is still recognizable from the works.
The paintings are based on the authors' shared experiences and on the interpretation and continuation of the second work in layers. The works create small abstract stories that open up to viewers in different ways. Often, the authors themselves experience the same work from very different perspectives.
ROP Artist Group. Forecast: Intermittent Reason and Premeditated Instability.

1st Floor Exhibition:
The works of art in the exhibition employ methods of contemporary art to comment the topics relevant to our society that we as the people need to solve today and in the near future for us to survive on our Planet. The main themes are food, energy and technology, and the related conflicts thereby, and the essentials of the humanity.
ROP approaches the theme with visually imposing works executed with high technical skill. The content can be read in diverse ways, also beyond the themes they have themselves defined. There are also clear satirical elements present. The artists think it is possible to process difficult issues thoroughly only if you can laugh at them as well.
"We create art first and foremost for the love of humanity, for so difficult it sometimes feels, and on the trust that eventually everything will turn for better. Our works are painted sculptures placed in free space on pedestals or hung on the wall. We use mainly wood and plywood for surfaces and structure. Paints are acrylics, oil-based and spray. Sometimes we have also used steel."
ROP Artist Group was founded in 2011 as a cross-discipline project by visual artist (BA) Tuomo Rosenlund and MScEng Pekko Orava. We create indoor and outdoor works of art and installations, both to gallery space as well as public spaces, using varying materials and techniques. ROP members are professionals in their respective fields. By combining the skills we can achieve more what we could alone. The works of art are implemented as cooperation where the artistic content and ideas are created together.
In addition to contemporary art, enjoy the peaceful garden, have a coffee break with  tasty cakes and admire the flora and the fauna of Finnish nature!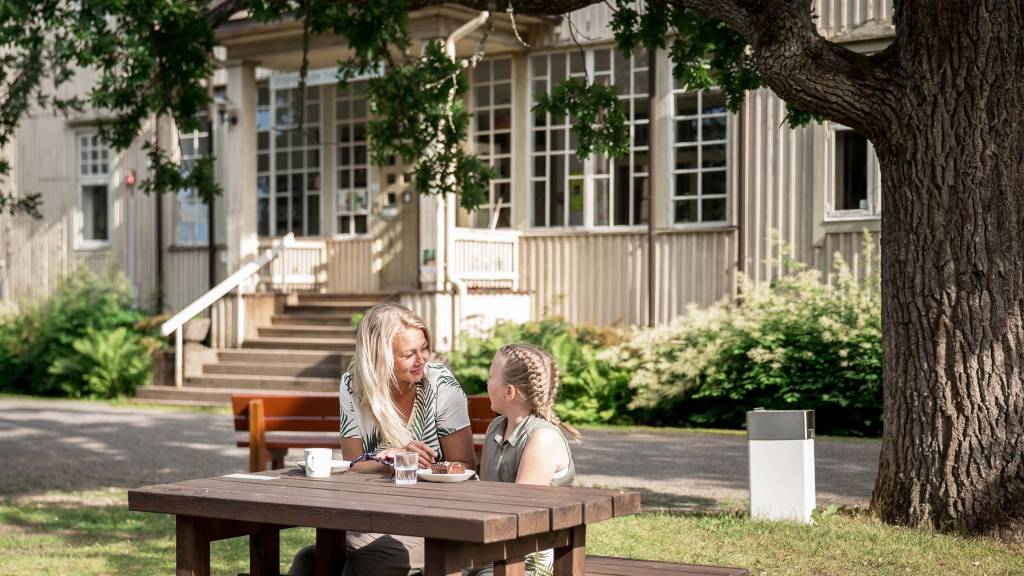 During the summer exhibitions 12th June – 29th August Voipaala Art Center is open Tue-Sun 11 am-6pm (closed on Mondays and Midsummer 25th – 27th June). Changes are possible if the corona situation causes exceptional arrangements. See the local Covid-19 information updates from our previous news, which are kept updated.