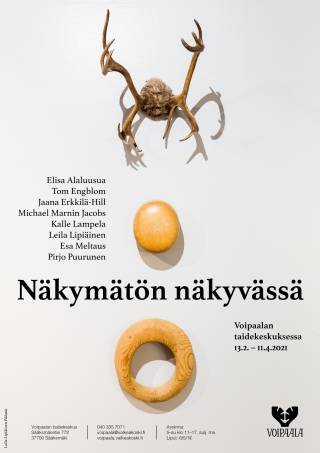 "In our exhibition, we survey at phenomena that are hidden from consciousness, even though they are perceptible to our eyes. We see one thing, and surprisingly there is something else behind it. What abandoned villages, fields or invisible writings tell us? What destinies hides in the landscape, in the objects, beyond the material? "
The Invisible in the visible -exhibition is implemented by eight artist, who are also teachers in the University of Lapland, Faculty of Art and Design. Artists have participated in multiple exhibitions in Finland and internationally in the last 30-years.
Elisa Alaluusua 
Elisa Alaluusua grew up in Finnish Lapland and now lives in London where she works in the field of drawing using paper as well as video. She finds inspiration from the extremes of quiet country living in her home village, Luusua, on the family reindeer farm and life in London. She describes her work as an invisible line between these two places: Luusua — London.
​Tom Engblom
As a sculptor, I have long been working with the topic of composition. What interests me in the topic lies in the symbolism of objects. Fusing the value judgements attached to different objects creates a type of visual play that brings new and even unexpected subjects, levels of interpretation and atmospheres into a given situation.
From a sculptor's perspective, spatiality is a physical experience. Sensing a work of art within a space, standing by or in the middle of it, forms an essential part of my work. I use any material that is available to me and supports the idea of the specific work of art. The ideas for my works arise from my environment. They can be political or poetic – pretty much anything from the rational and irrational spheres of life.
Jaana Erkkilä-Hill
As an artist I think predominately in forms and colours, and I trust in intuition in the process of making art. It is a matter both of skill but also of intuitively knowing when the work itself takes over and can lead you to unknown places.
Michael Marnin Jacobs
Jacobs has taught photography at the University of Lapland over 20 years. Born in Columbia, lived in San Francisco for a long period and came to Finland 1990.
In his own words about A topography's secrets:
"A near earth, my nearest earth is both my home address and the center of my universe. The news that at this place, my garden, my home, was from 1941 through 1944 the location of a Nazi German heavy machinery repair station came to me as a shock. What seemed like such a distant and ugly history was not distant at all.
How strange the waves of history like waves from a stormy sea never quite find their peace over time. Like an imperceptible tremor, a murmur, shallow, that refuses to give up.
But the news came to me on the day this property came into my possession. The news was jarring and uncomfortable. And the entire day I couldn't free myself of the anger and astonishment of the realization.
But why should it matter one way or another? The entirety of Europe was engulfed in violence and on this particular piece of topography was no blood-stained or soaked earth. No bullets nor bones, only the knowledge of their presence.
That evening I bathed in sauna, drank beer, toasted to the living and cursed the loser, and then went into this garden and like a dog claiming its terrain I peed on the remains of the foundation of the garage where cars, trucks and tanks had come for repair before they were once again sent out to battle. In that rude act I attempted to re-consecration and reclaim the territory.
The earth of my near ancestors was filled with dread and doubt and ultimately in violence. On my mother's side only one survived by crossing war torn Europe (1915-17) and leaving behind the continent for good.
The topography of my garden is lush in summer and spare in winter. The ground in summer is soft and teaming with activity and frozen in winter as hard as the cement foundation that parked the mobile tools of war. During the summer months it is not unusual for me to dig up remnants of cement and iron from that miserable foundation while doing the age old loving act of gardening."
Kalle Lampela 
I have worked as a visual artist since 2000, held numerous solo exhibitions and participated in collective exhibitions in Finland and abroad, e.g. in Germany, Sweden, Norway and Japan.
For the last ten years the themes of my artworks have been loosely related to political history, as well as political and religious ideology. My artwork is mainly conceptual and investigative. I have examined political utopias and the manifestation of utopian ideas in society and culture.
I have tried various techniques and tools in my art: mechanical typewriters, embroidery, collages and, especially in the recent years, drawing. I prefer taking a photorealistic approach to drawing, using mostly pencils and coloured pencils.
Leila Lipiäinen
I make object-based works and installations. I often find strange and fascinating shapes and materials in ready-made objects. The world of commodities is full of stories, past and lived. I modify the objects I find, transform them, combine surprising and even worthless objects and in this way create something new.
Reusing a material in a way that deviates from its original purpose presents an opportunity to extend the lifespan of the object. Discarded, unimpressive items and damaged materials become meaningful, and even worthless material can carry a valuable message to the viewer. There is always somebody, a stranger, behind any used object.
I am interested in themes concerning memories, everyday routines, people and cultural history. I am fascinated by natural materials as well as the ready-made objects. My northern location and the natural materials provided by the environment creep into my artwork.
Esa Meltaus
Esa Meltaus is a visual artist whose main form of expression is watercolor, although sometimes her thoughts take on three-dimensional forms. Meltaus has taught at the Faculty of Arts of the University of Lapland since 1996 and has also been actively involved in the activities of the Lapland Artists' Association. Meltaus' works have been exhibited in several domestic and foreign exhibitions. Meltaus lives and works in Rovaniemi.
Pirjo Puurunen
I have worked in a variety of assignments as a photographer. Over the years, however, the focus of my work has shifted more and more onto teaching. My own artistic practice focuses on observation and visual narrative. I am particularly interested in captivating the movement of everyday life: the bustle of the streets and activities of people. I call it the choreography of everyday life.
The exhibition is open Tuesdays to Sundays 11am – 5pm.
Note the Covid-19 latest updates.